Golf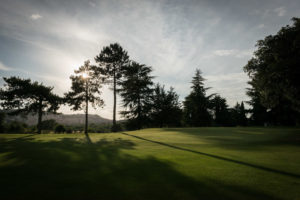 Golf Club Perugia, Località Santa Sabina, entrance in Via Bonaventura Tecchi, Ellera Umbra, Perugia. Closest 18 hole course. 
Antognolla Golf, San Giovanni del Pantano – 18 hole course around a medieval castle. 
Golf Club Lamborghini: Località Soderi 1, Panicale – 9 holes. Run by the famous car family. Cantina with excellent wines available.
SPA and Wellness
Borgobrufa, Brufa near Torgiano, +39 0759883 (No children under 14). Absolutely stunning setting, gorgeous views and extraordinary well equipped spa. 
Roccafiore Spa, Località Chioano – Todi +39 0758942416 In the perfect setting with views of Todi and the valleys at either side. Book your wellness for the mornings and hang around for a beautiful lunch. 
Bagni TRIPONZO, Borgo Cerreto di Spoleto-Triponzo baths were built in 1870 on the ancient Roman structure. They are now just completely renovated however leaving the charm of the ancient location. This SPA  is surrounded by the beautiful countryside around Spoleto. It offers indoor and outdoor pools.  Payment of a daily fee allows you to spend all day in the structure. A nice alternative to enjoy a pool with warm water in case of bad weather. Also beauty treatments available.