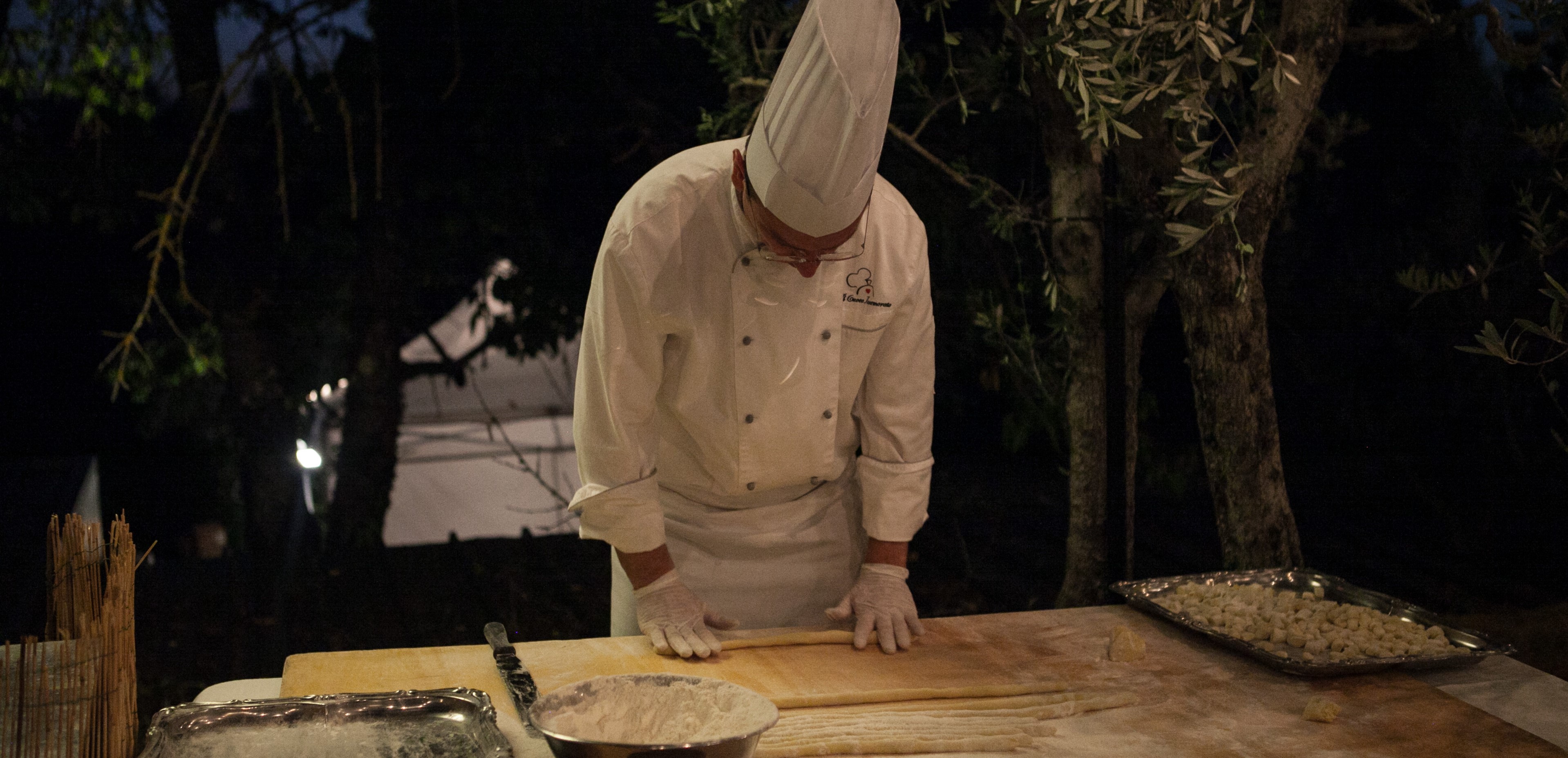 CENA PRONTA A CASA
Non hai voglia di andare al ristorante e semplicemente desideri gustare cibo e vino nell'intimità della sala interna? O alla luce delle candele nel suggestivo cortile? Un pranzo o una cena più informale davanti al caminetto esterno?
Ti possiamo offrire ogni sera una location diversa senza dover uscire dalla proprietà.
La nostra governante può servire pietanze cucinate secondo la tradizione locale umbra per poi rimettere in ordine la cucina dopo la cena.
Costo e menù con proposte di vino su richiesta.
IL TUO CHEF A CASA
I nostri chef sono tutti molto esperti nella preparazione del cibo umbro. Ricette della nostra tradizione della famiglia da secoli per celebrare gli eventi speciali della vita della famiglia così come i pranzi della domenica o semplicemente la gioia di ritrovarsi insieme. La cameriera servirà la cena Nella magica atmosfera del cortile poi rievoca la cucina dopo la cena. Costo e menù con proposte di vino su richiesta.
LUNCH by THE POOL
Fancy a dish of pasta and a drink served by the pool side?
The lunch area in the pergola shade can be the perfect setting for a lunch cooked and served by our staff.
Price and menu upon request.
COLAZIONE CONTINENTALE
Sì, possiamo fornire la colazione tutti i giorni. Tu dimmi a che ora preferisci fare la colazione, la governante prepara la tavola e prepara caffè, tè, succhi. Lei procura pane fresco / biscotti / marmellata / torte… secondo quello che offre il mercato fresco di giornata… potrebbe essere anche frutta e ricotta… ogni eventuale richiesta o desiderio speciale può essere preso in considerazione. Costo su richiesta.
PERSONAL PHOTOGRAPHER
Possibility of hiring a professional photographer to take shots during your party or even during the day. Unforgettable memories for all the family to collect in a printed lookbook. Cost upon request.
WINE TASTING, TRUFFLE HUNTING, HIKING and BIKING… are just an example of the various activities you can enjoy and we can organize for you upon request.  ( see Property Guide )
Places to visit while you stay at San Lorenzo:
AUTO con CONDUCENTE
Vorresti un trasferimento dall'aeroporto o per l'aeroporto?
Preoccupato di guidare di notte dopo una cena al ristorante o dopo una degustazione di vino? Possiamo fornirti un'auto o un minivan con autista professionista.
Il servizio è disponibile anche per gite ed escursioni giornaliere per tenere unito il gruppo durante il viaggio e godersi il divertimento senza pensieri.
Costo su richiesta.