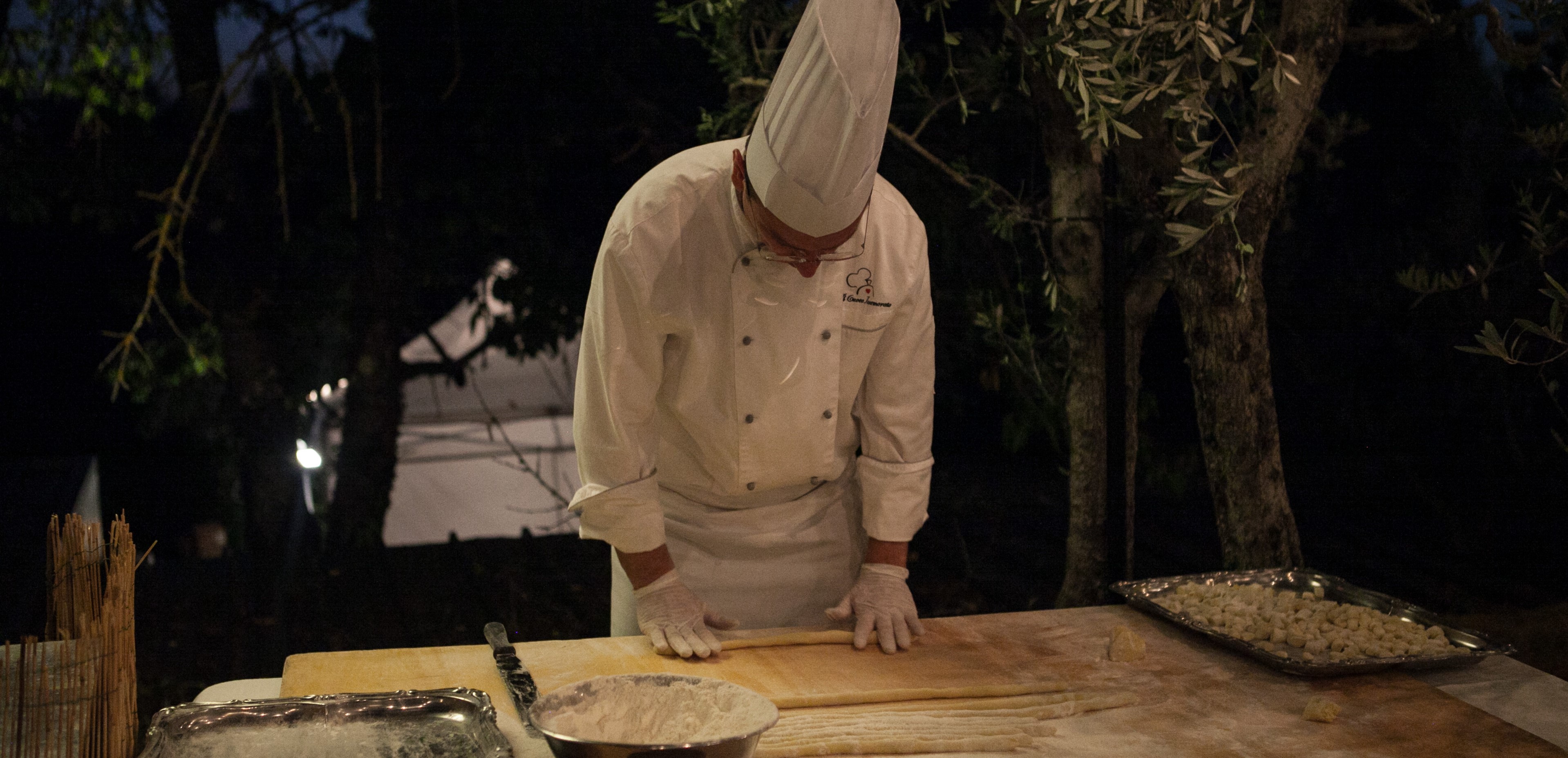 DINNER READY at HOME
Not willing to go to the restaurant and just wishing to enjoy food and wine in the intimacy of the of the indoor dining room? A more informal dinner in front of the kitchen by the outdoor fireplace?
Our maid can serve food cooked according to the Umbrian local tradition and then tide up the kitchen after your dinner.
Cost and menus with wine proposals upon request.
YOUR CHEF at HOME
Our chefs are all very experienced in the preparation of the Umbrian food.  Recipes from our family tradition since centuries to celebrate the special events in the life of the family as well as sunday meals or just the joy of gathering together.  The maid will serve the dinner In the magical atmosphere of the courtyard then she tides up the kitchen after your dinner. Cost and menus with wine proposals upon request.
LUNCH by THE POOL
Fancy a dish of pasta and a drink served by the pool side?
The lunch area in the pergola shade can be the perfect setting for a lunch cooked and served by our staff.
Price and menu upon request.
CONTINENTAL BREACKFAST
Yes, we can provide breackfast everyday. You tell me what time you prefer to have breackfast, the house manager sets the table and prepares coffee, tea, juices. She provides fresh bread/cookies/ jam/ cakes …it is also a matter of what the market offers fresh in the day…it could be also fruit and ricotta cheese…any eventual special request or desire can be taken into consideration. Cost upon request.
PERSONAL PHOTOGRAPHER
Possibility of hiring a professional photographer to take shots during your party or even during the day. Unforgettable memories for all the family to collect in a printed lookbook. Cost upon request.
WINE TASTING, TRUFFLE HUNTING, HIKING and BIKING… are just an example of the various activities you can enjoy and we can organize for you upon request.  ( see Property Guide )
Places to visit while you stay at San Lorenzo:
CAR with DRIVER
Would you like an airport pickup or drop?
Worried to drive at night after a restaurant dinner or after a wine stasting? We can provide you a car or a minivan with a professional driver.
The service is also available for daily trips and excursions to keep the group together while traveling and enjoy the fun without worries.
Cost upon request.